Recap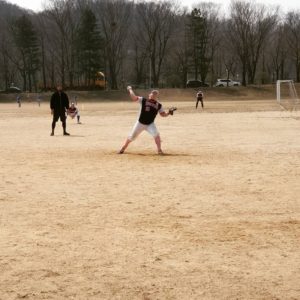 The second game of the season capped off an Opening Day that was tighter than a Tony Covello strike zone. Wolfhound and Route 66 threw last years Championship game winning pitcher, Ryan Burda, against the wiley old SBL vet (and rare ace) TJ Fuller.
66 took the field first, and Burda shut down the side quickly. It was the opposite for Fuller, as he walked the first three batters, drilled Chance Pueschel, and had Burda came up with bases loaded. He brought the boom stick out, and took Fuller to deep center, where it was reluctantly called a ground real double, instead of ground slam. Followed by a big double by Gearson Castillo, the Trash Panda led the first inning 5-0.
The next two innings were both quick and precise, with Burda having #2Kownage on former fellow Trash Panda Graham Salzer, but then things got frisky in the fourth and fifth. Wolfhound found the sticks, and started to hit anything and everything. Balls continued to find open spots, and some big hits by Seho Kim, Danielle Landry, "Irish" Bryan Schelling, and the Brothers Oras. Wolfhound jumped out to an 11-5 lead in the top 5th, and a dejected Burda pulled himself for co-captain Zach Ciano. Ciano came into a sticky situation (on the field, not the rum jug), and managed to get out of a one out, bases loaded situation with 13-5 going into in the bottom of the fifth.
Route 66 responded with four runs in the fifth, and five runs in the sixth. 66 had some big hits by the top of their order in Ciano, Dan Lonzana, and Pueschel, and some great at bats and timely hits by rookies Joe and Brian Newsom. The game took a crazy turn of events in the bottom of the sixth, when with two outs, a ground ball back to Fuller would have finished the end of the inning. Instead of jogging over tagging the base, or lobbing it, Fuller sailed it over his head and 66 scored two runs to go up 14-13. Fuller pitched a complete game, and showed glimpses of greatness.
In the top of the 7th, Ciano nearly had a 1-2-3 inning, other than another Rob Oras, Jr. single, with a combination of ground balls and pop flies, and Route 66 escaped with a crucial Opening Day W.
Route 66 (1-0) takes on Beer O'Clock (0-0) next week at 9 am. Wolfhound (0-1) looks to bounce back vs. Shenanigans (1-0) at 12 pm.
Quotes of the game:
"Opening Day for the #seoulbaseballleague It's my third season playing for #route66itaewon We manged to squeak out a win. With 3 at bats I was hit by a pitch and struck out twice, screw you @dismantle_repair21 . I didn't do much to help my team win, but it was beautiful weather and felt great to be out of the house and talking to people who aren't in my imagination."
Cole Quinlan
"I'm just finally happy to be on a team that has good looking jerseys."
-Dan Lonzana
"Trash Pandas for life. Fireball. Baseball. Country music."
-Chance Pueschel
"First complete game (pitching) in my SBL career. Didn't end with a W (props to 66, but also fuck you). If you're curious how to get your arm ready for next week… frozen 만두 (dumplings) on the elbow will cover it. Great day today boys and ladies. Look forward to next week."
-TJ Fuller